CIRCLES
CIRCLES is a large-scale multidisciplinary project merging voice, color, and movement illuminating the power of collective intelligence experienced both online and in the physical world. In an immersive live participatory symphony, CIRCLES brings together hundreds of singers in an adaptable multi-dimensional production of digital-physical hybridized performances. An audiovisual ritual where music, choreography, visual art, and video projection are composed into a symbiotic and dynamic colorful artistic expression celebrating human relationships. CIRCLES introduces a series of movement and voice exercises that encourage mutual responsibility. Each participant's unique contributions transform the collective experience into a cutting-edge large-scale work of art. Like bees, birds, or drones, they embody the notions of swarm behavior, morphing CIRCLES into a continually evolving entity. CIRCLES engages individuals, communities, and cities as a multifaceted project including performance, installation, and digital technology-based forms.
CIRCLES premiered in Stuttgart, Germany, on October 3, 2021, as part of
Die Irritierte Stadt
Festival.
Trailer
Photo: Armin-Burkhardt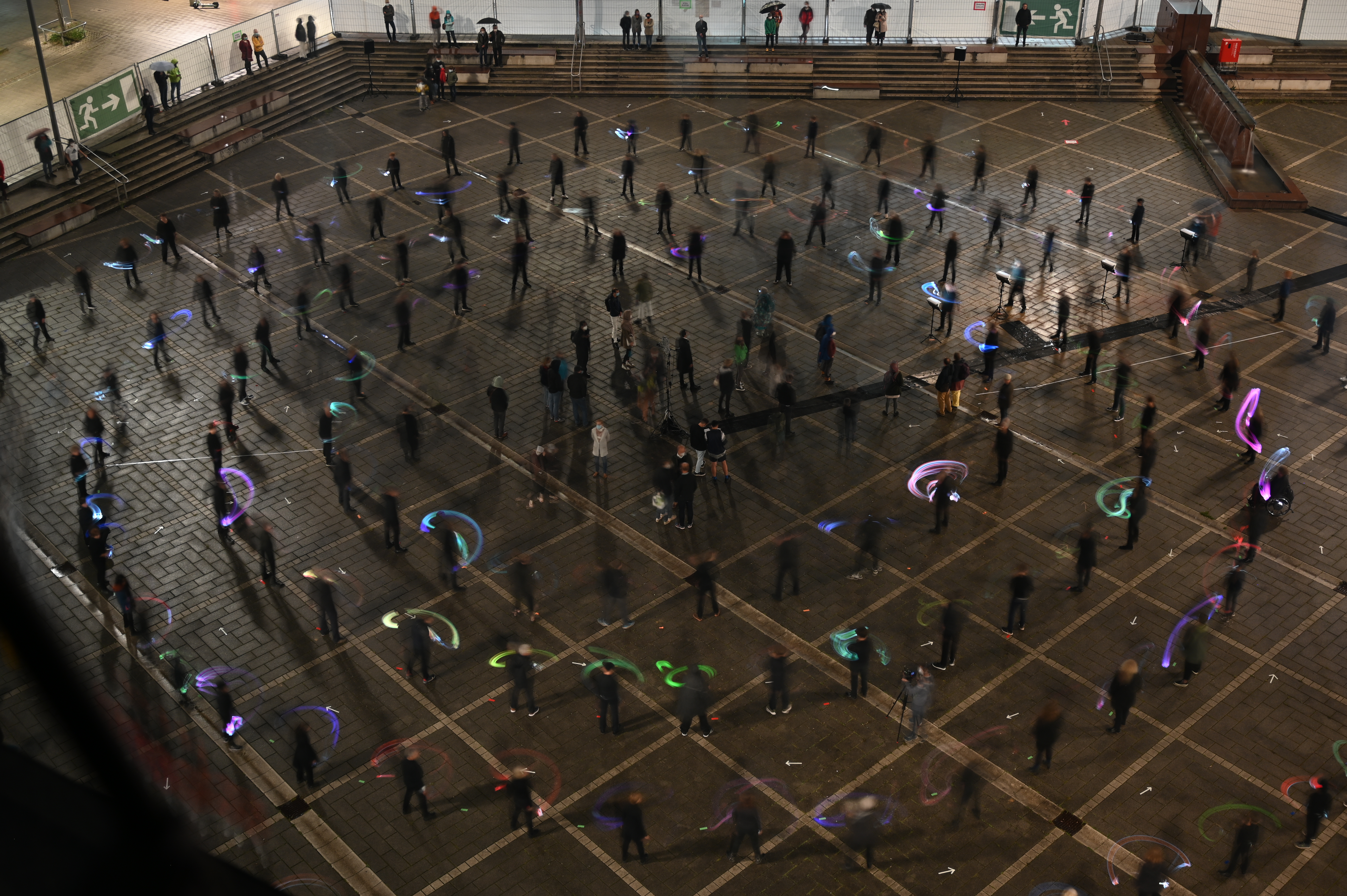 CIRCLES Team:
Amir Shpilman, Artistic Direction, Composition, and Concept
Marie Bues, Dramaturgical Consultation
Ariel Cohen, Choreography
Naoto Hiéda, Multimedia-Art
Timo Kleinemeier, Sound Design
Christoph Amann, Virtual Instrument
Kerstin Wiehe, Management and Communication
Dr. Robert Löw, Scientific Consultation
Performers: Neue Vocalsolisten: Susanne Leitz-Lorey, Sopran Truike van der Poel, Mezzosopran Martin Nagy, Tenor Guillermo Anzorena, Bariton
Rainer Homburg, Conducter
Choirs: Stuttgarter Hymnus-Chorknaben, Motettenchor Stuttgart, Philharmonia Chor Stuttgart, VokalWerk Stuttgart, ofChors - feel the music, Vocalix, conTakt Chor Deufringen, Chor Once Again, Chor Art Herrenberg